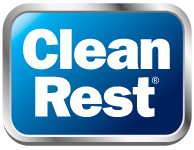 Allergen Barrier, Waterproof, Breathable, and Zip-N-Click

Why do you need to install a CleanRest mattress encasement??
Dust mites and bacteria are harmful to your sleep, and mattresses are the perfect breeding ground for both. A CleanRest PRO encasement will protect your mattress from harmful allergens, micro toxins, dust mites, bacteria, and even bed bug infestations with our patented MicronOne waterproof fabric to ensure a healthy night's sleep.
Mattresses are easily spoiled by perspiration and incontinence, and foam mattresses cannot be cleaned. CleanRest PRO encasements will block all fluids to protect your mattress from spills and stains, keeping your mattress fresh for many years.
So, what's the difference between a mattress encasement and a mattress pad or protector? Click here to read more information on this...
Why should you trust CleanRest
Mattress Encasement?






How To Install Mattress Encasement

Meet Our Mattress Encasement Family
Why We Love CleanRest Encasements