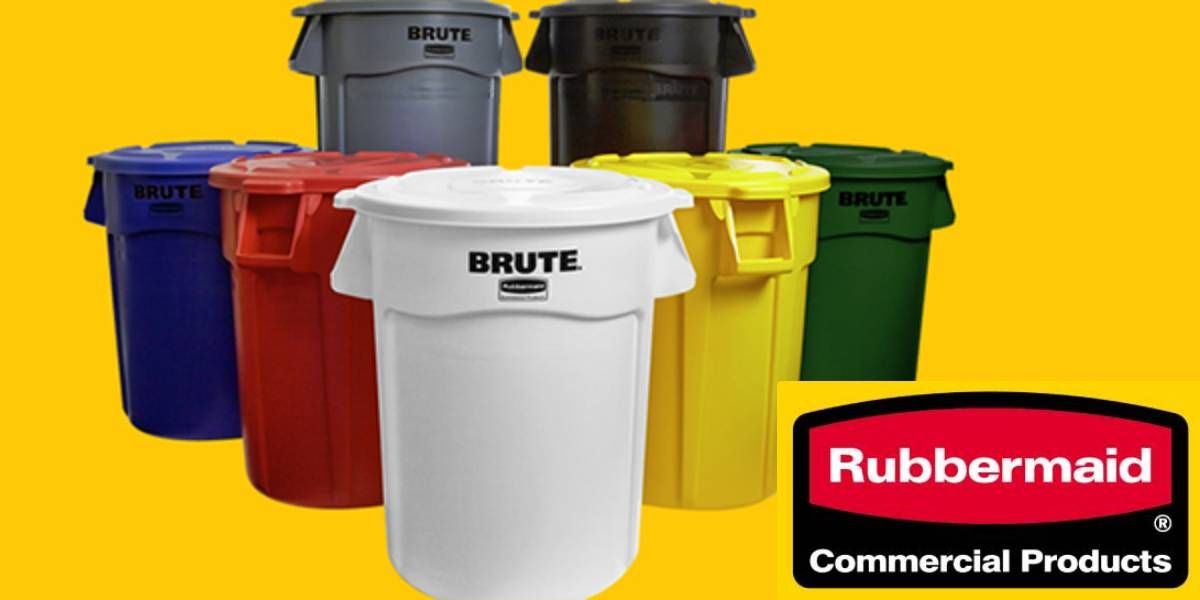 The Rubbermaid Brute trash can is an iconic tool. Its simplicity, ruggedness, and adaptability have made it a staple in many industries where it serves as a go-to solution for trash management. The Brute can be used virtually anywhere there's a high volume of trash to be collected, indoors or out.
The polyethylene plastic used to make these containers is the key ingredient in the Brute's strength. Break-resistant polyethylene is one of most flexible plastics on the market, so it can suffer plenty of abuse and snap right back into shape. This plastic is also less likely to suffer damage from exposure to harsh chemicals, acidic food waste, and discarded oil. Polyethylene will resist shattering, even in subzero temperatures, because it's safe at temperatures between -40 and 180 degrees Fahrenheit. Brute cans are made with a UV-inhibiting chemical to keep them from fading or becoming weaker in direct sunlight.
The Brute's design has been refined to include a number of features that set it apart from the average container. The rim is made with an integrated rib structure to help it resist crushing and maintain its shape. Rounded ergonomic handles are easy to grip, and they're integrated into the structure of the can itself so they'll stay intact and resist tearing. The Brute's base is designed to be dragged across rough surfaces like asphalt and concrete. The base also includes built-in handles to make it easy to lift and empty.
In 2016, Rubbermaid introduced venting channels that make it easier to remove full liners of trash from their 10- and 55-gallon Brute cans, a design that was made popular by their sleeker sister line, the Slim Jim. Also inspired by those more compact cans, the Brute's new bag cinch helps keep can liners in place and prevent them from coming loose under heavy loads.
The Brute is available in 10-, 20-, 32-, 44-, and 55-gallon sizes. It also comes in several colors besides the classic utilitarian gray, including blue, white, red, yellow, green, and black. You can use these colors to separate materials for recycling or to color code the cans for use in different parts of your building.
If you're ordering for a university, or if you just want to show off your school spirit, we can also make special orders for Brute cans printed with a number of NFL and college team logos.
Brute Foodservice Solutions
Brute's competency as a high-volume container has led Rubbermaid's engineers to develop versions of the can for storing food, particularly dry ingredients like flour and grains, as well as ice. These white, miniature Brute cans are made to be fitted with round ProSaver® lids that fit snugly and include clear, rotating windows that keeps contents fresh and easy to access. These containers are available in sizes of 10, 20, and 32 gallons.
Brute, Jack of all Trades
The Brute's virtual indestructability lends the can well to applications other than holding waste. Gardeners use it to grow and store root crops and to capture rainwater, while homeowners may keep a few in the garage to store sports equipment and organize long-handled tools like rakes and shovels. For those who like to be prepared for the worst, Rubbermaid Brute trash cans can be used as repositories for survival gear like non-perishable food, water, blankets, clothes, and a first aid kit.
Brute trash cans are often fitted onto wheeled dollies and pushed around by janitorial and housekeeping staff on their daily circuits. Rubbermaid offers rim caddies and caddy bags that fit snugly to the containers, and include pockets or hangers that hold cleaning equipment and supplies. The rim caddies are designed for storing larger implements like brooms, dustpans, and wet-floor signs. The caddy bags feature a dozen pockets for storing smaller supplies like cleaners, brushes, towels, and sponges. These accessories essentially turn the Brute into a lightweight, mobile cleaning cart.
The Brute Brand Expands
The Brute family has expanded beyond the classic round container. Rubbermaid also offers a square rollout container with large, rugged wheels designed for curbside trash pickup. This model incorporates the key features of the classic Brute, like integral handles and rugged, high-density polyethylene construction.
Rubbermaid has also adapted the Brute design to square containers intended for collecting medical waste. These feature an easily-identifiable red color and a Snap-Lock lid. These cans have a capacity of 28 gallons to accommodate operations that generate high volumes of waste.
For product details, please click https://www.kkssinfinity.com/products/kkss-rubbermaid-vented-brute or contact us for bulk purchase https://www.kkssinfinity.com/a/contact-form